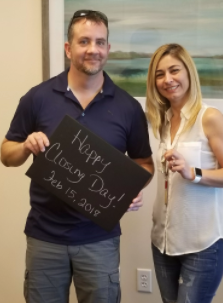 July 2018
Beth Yannoulis was referred to us by several people that we knew that had very positive experiences themselves. We hired her to both sell the home we were living in as well as to represent us with a home builder as we built our new home. We couldn't be more pleased with the care we were given and the results that were achieved, especially with managing the timing of the sale and purchase to ensure funds were available at the right times.

Beth provided us guidance that ensured our house that was for sale was in stunning shape and provided us with very professional photography and open house support. She communicated constantly to ensure we knew any time a showing was going to occur and went out of her way to get feedback from prospective buyers that helped us improve our show quality.

During the build of the new home she was by our side as we signed the contract, selected the options, performed final walk-throughs and the closing. On several occasions she represented our quality concerns with the builder and got them to react.

Beth was a pleasure to work with and really cares for the success of her clients. We would work with her again in a heartbeat and strongly encourage anyone give her a shot.
Terry and Serap Cox